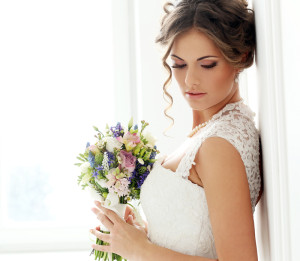 The dress is fitted. The flowers are ordered. But how will you do your hair? Here are three hair "I do's" for brides picking a hairstyle for their special day:
The Romantic Bride
If you chose a halter dress or a bridal gown with spaghetti straps or no straps at all, you've chosen a soft, romantic look. You're a blushing bride, so complement the look with a loose romantic wave slightly pulled back, or hair that is loosely pulled up. Cap the romantic look with a soft fringe or tendrils of hair around the face. Your guests will swoon at the romance of it all.
The Elegant Bride
All brides are elegant, of course, but high neck or V-neck dress is at the height of sophistication. In this style of gown, your hair should be up off of your shoulders to avoid disturbing the neckline. The French twist and the chignon are excellent choices to complement a high neck or V-neck dress. Plus, both styles are so versatile that you'll have plenty of hair looks to choose from.
The Traditional Bride
If you choose a gown with full styles and sleeves, also choose a slim hairstyle. One flexible option you might not have considered is a sleek pony. While a ponytail may sound at first like a leisurely approach to wedding day hair, there are actually many gorgeous styles to choose from. Consider a low side pony, a wraparound pony, a sleek pony or even a pony in an intricate braid to complement this traditional wedding look.
Also consider these wedding day hair do's and don'ts before you say "I do":
Consider face shape – Not only should your wedding day hair highlight the cut of your dress, it should complement the shape of your face. You and your stylist should experiment with the height and distribution of your hair to find the perfect look.
Accessorize
Choose a veil or flowers to carry on an age-old tradition, or add a little bling with tiaras, headbands or pins. Top off your lustrous locks with the right accessories to finish your wedding day look.
Remember Hair Health
Nothing is more radiant than healthy hair. But chances are you'll be stressed and frazzled before your big day, so don't forget to eat a balanced die rich in protein, vitamins and minerals. Not only will you feel better, your hair will appear nourished and stunning.
Your hairstyle is, of course, only one small part of your big day, but a vital one. Pick a style you'll love to think back on as you look at pictures and cherish your memories for years to come.