You've made the decision to go a Georgia cosmetology school and you've never been more excited.  Of all the career fields you could have chosen, exploring a profession using your creative talents is something you've felt drawn to.  So naturally, the choice to enroll in cosmetology school was an easy one.  But did you know there's another way to earn your Georgia cosmetology license?  It's through an apprenticeship.
Cosmetology Apprenticeship Programs in Georgia 
Is A Georgia Cosmetology Apprenticeship Program Right For You?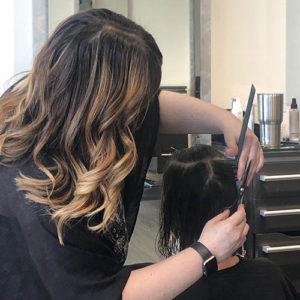 Georgia Cosmetology apprenticeships offer someone the opportunity to learn on the job in a real salon setting.  As an apprentice, you'll train under the direct supervision of a licensed master cosmetologist with at least 36 months experience.  Apprenticeships can be an excellent opportunity and alternative to traditional cosmetology school.
One of the first things one must consider when choosing an apprenticeship is the type of career path to pursue.  The Georgia State Board of Cosmetology and Barbers offers six programs to decide from.  The programs offered are BARBER APPRENTICESHIP, BARBER APPRENTICESHIP II, COSMETOLOGY APPRENTICESHIP, ESTHETICAIN APPRENTICESHIP, HAIR DESIGNER APPRENTICESHIP and NAIL TECHNICIAN APPRENTICESHIP.
To begin any apprenticeship program in Georgia you must be at least 17 years old.
How Long Will It Take?
Depending on the career path you choose, the amount of time it will take to complete your apprenticeship program will vary.  Here's a summary of how long it will take before you become eligible to take your state board examination: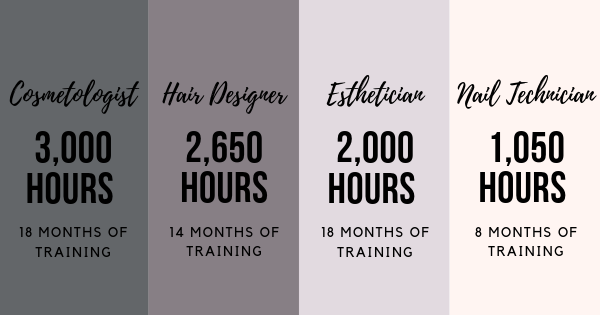 COSMETOLOGIST — 3,000 HOURS AND 18 MONTHS OF TRAINING
HAIR DESIGNER — 2,650 HOURS AND 14 MONTHS OF TRAINING
ESTHETICIAN — 2,000 HOURS AND 18 MONTHS OF TRAINING
NAIL TECHINICAN — 1,050 HOURS AND 8 MONTHS OF TRAINING
Cosmetologist Career Outlook
Unlike most career fields, as an individual performing in the field of cosmetology you truly are your own gatekeeper to success.  The more time you devote to improving your technical ability, as well as your professional and people skills, the more likely you are of becoming a true rock star in this constantly growing industry.  According to the Bureau of Labor Statistics employment for barbers, hairstylist, and cosmetologists is expected to grow 13 percent from 2016 to 2026, which ranks faster than any other occupation.
Click HERE to Read More from the BLS
Georgia Cosmetology Apprenticeships at Jyl Craven Hair Design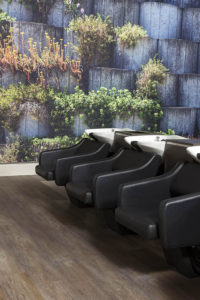 Jyl Craven Hair Design in Canton, Georgia offers a Hair Designer apprenticeship program.  This program provides those interested in becoming a hairdresser, the ability to learn hands on the skills needed to thrive in today's hairdressing industry. With an emphasis on theory and practical teachings, apprentices are able to learn alongside an experienced licensed cosmetologist in one of the busiest hair salons in Georgia.
Benefits of a Hair Designer Apprenticeship at Jyl Craven Hair Design
Are you a self-starter and feel a calling to a career in hairdressing?  If so, then a hair designer apprenticeship may be for you.  A hair designer apprenticeship program at Jyl Craven Hair Design involves hands-on learning. The apprenticeship takes place in a normal salon setting with the most advanced tools and haircare products available today.  As an apprentice at Jyl Craven Hair Design you get training in all aspects of hairdressing to include more advanced techniques today's customers have come to expect.
What Past Hair Designer Apprentices are saying: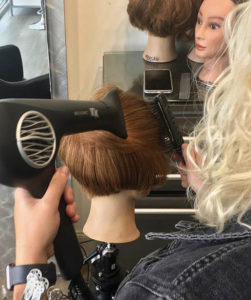 Ansley – The Hair Designer Apprenticeship at Jyl Craven Hair Design allowed me to pursue a career and still provide for my family financially. Learning in a hands on environment, I was able to not only develop my technical skills but more importantly understand the customer skills needed to be successful.  By having my educator on staff, I can continue to grow and refine myself professionally even after I completed my apprenticeship.
Holly – The Hair Designer Apprenticeship program completely changed my life.  I have grown not only in my skill set and knowledge of hair, but also as a person. For instance, I went from not knowing how to hold a pair of scissors correctly to a confident stylist behind the chair.  The educator(s) genuinely care and want to see you succeed. They take their time to mentor and help you grow.  I am so thankful to have had the opportunity and support from everyone at Jyl Craven Hair Design and to now be doing what I love!"  
Cody – The Hair Design Apprenticeship and Jyl Craven Hair Design was totally life changing for me. The apprenticeship at Jyl Craven Hair Design allowed me to get hands on training in the salon from the start.  For me that was so important because I am a visual learner and love direct experience.  Being surrounded by amazing educators and a family-oriented team not only help me grow in my career as a hairstylist but also as a person.  I am so thankful I got the opportunity to go through this program. I would do it all over again if I could.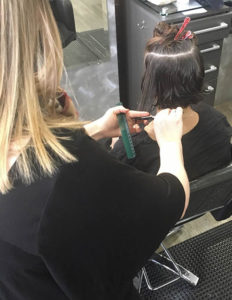 Interested in the Hair Designer Apprenticeship program at Jyl Craven Hair Design?  Click HERE to apply now.  Want to find out more about the program? Email us at info@jylcraven.com.