Vibrant Changes for Fall
Are you ready for a drastic change for the season? Look no further! Funky colors are so in for this fall. From pinks, reds, violets, and blues, we are loving this new trend! There are so many fun ways to add some drama your look. Recently, we have had more guests than ever requesting a vibrant hair color, and we love the fun change for fall. Not sure which shade you want to add to your look? Just take a look at the examples below for inspiration!
Pretty in Pink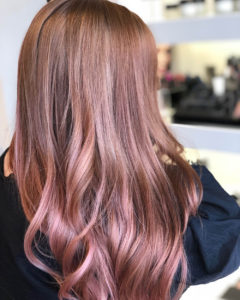 Pink is the perfect way to add some romance and excitement to your hair. If your hair is already blonde, the color process of changing to this shade will look perfect in just one salon visit. If you have long layers, pink will look stunning on you! A nice shade of rose color in your hair will make green or hazel eyes pop. Pink doesn't have to be just a spring or summer color either, it is a perfect contrast for darker fall clothes and makeup, and will look gorgeous in fall-themed Instagram pictures!
Many celebs have rocked the pink hair look. For example, Lucy Hale, Katy Perry, and Ashley Benson have each made the look extremely popular and enviable. Once you're ready to take on pink hair, make sure to wash with Kerastase Reflection Fondant Chromatique Shampoo and Conditioner. These products will help maintain a healthy hair color by neutralizing water particles to protect color for lasting vibrancy and shine and using UV filters to protect against harmful external aggressors on your hair.
Ravishing Red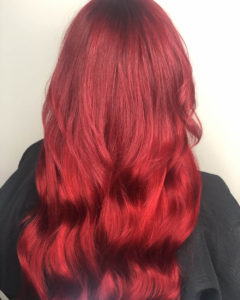 Have you always dreamed of having princess hair? You're not alone. Flowing red locks are perfect for fall, and stunning on anyone who wants to add some warmth and drama to their look. A bright and vibrant red is perfect for fun fall dates and activities, and you will always be the center of attention with this look! The best part about this shade, is it looks amazing on any skin tone, eye color, or hair length.
Want some more inspiration for vibrant red hair? Check out celebs like Rihanna, Haley Williams, and Bella Thorne, who have all rocked the vibrant red look. To keep your hair perfectly vibrant between salon visits, use Kerastase Reflection Touche Chromatique Cool Red Kit For Colored Treated Hair which can be used for up to 14 applications. The kit contains Kerastase Touche Chromatique Red, Masque Chromatique, and at-home preparation tools. This kit will ensure your hair will stay as bright as ever between salon visits.
Vivacious Violet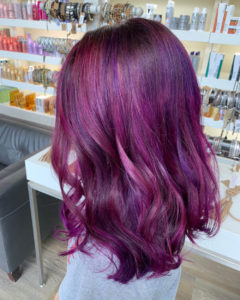 The most requested and popular shade we have seen recently is purple. It is such a gorgeous color that goes perfectly with the fall season. If you aren't ready to dye all of your hair purple, you can add it to your ends for a balayage or ombre effect, or apply it to the underside of your hair for a peak-a-boo look. You can also add other colors in to make the purple warmer or cooler depending on your preference.
Dove Cameron has made the vibrant purple shade popular with her role in the Disney Descendants movie. Jessie J and Nicole Richie have also been spotted rocking different shades of violet in their hair. To keep your violet protected and perfect between visits, use Shu Uemura Art of Hair Color Lustre Shampoo, Conditioner, and Heat Protectant. To achieve waves that show off the shine of your new look, wrap your strands around a curling iron and finish off with Shu Uemura Art of Hair Texture Wave Dry Finishing Spray
Blissful Blue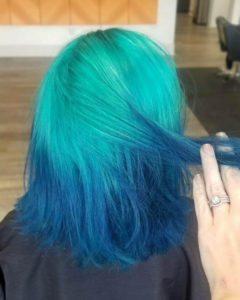 Want to add some coolness to your look? Blue is the perfect way to do that! You can add blue balayage highlights to black hair, or do a light-to-dark look like the featured image. Either way, blue is an edgy and exciting look for any age! Blue would be a great addition to a rock-and-roll pixie cut, too. If you have a warm skin tone, blue is a great way to add contrast to your look.
Kylie Jenner, Joey King, and Halsey have all tried different shades of blue and made it look incredible! The cool blue look is perfect with straight, shiny locks. To achieve sleek strands that show off your new cool color, apply Kerastase Nutritive Nectar Thermique Leave In Heat Protectant and Kerastase Elixir Ultime Original Hair Oil. Once hair is dried, straighten locks for a shiny, healthy, blue 'do!
Are You Ready for a Vibrant Color?
Is it time for your fall color transformation? The stylists at Jyl Craven Hair Design are specially trained to give you the shade that is perfect for you. Book your appointment with one of our amazing stylists today for your own vibrant color change!
Contact Us
Jyl Craven Hair Design
7970 Knox Bridge Hwy
Canton, GA 30114
770-345-9411
info@jylcraven.com
Hours
Monday 11:00am – 8:00pm
Tuesday 9:00am – 9:00pm
Wednesday 9:00am – 9:00pm
Thursday 9:00am – 9:00pm
Friday 9:00am – 7:00pm
Saturday 6:00am – 5:00pm
Sunday Closed
Directions
From I-75N take Highway 575N to exit #14 Holly Springs Pkwy. Turn left off the exit and go approximately 1 mile (4th traffic light) to Butterworth RD. and turn left. Take Butterworth RD (approximately 2 miles) until it dead ends into HWY 20 / Knox Bridge Highway. Turn left onto HWY 20. Jyl Craven Hair Design is approximately ¼ mile on the left.