Hair Loss Solutions in North Georgia
Are you suffering from hair loss or thinning hair? You are not alone. Nearly 30 million women in the U.S. experience hair loss, and 50% of women experience female pattern hair loss by age 50. At Jyl Craven Hair Design, we are the leading North Georgia hair salon helping women with their thinning hair challenges . We assist women from all over the Southeast with the goal of finding the hair loss solution that is perfectly tailored for each individual's lifestyle.
Evolve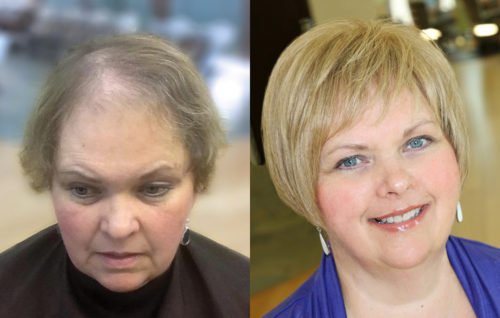 The Evolve Volumizer is a nonsurgical, integrated hair replacement system for women experiencing up to 50% hair loss on the crown or top of their head. This innovative solution consists of 100% human hair, which is lightweight and conforms to the shape of the top and crown of the client's head. Wear the system for up to five weeks before having a stylist uninstalling and reinstalling. Each hair on the system is hand-tied, to create volume on the top causing it to lay flat and blend in with the sides of a client's head shape.
The system can be cut to your individual tastes and styled just like your normal hair. For instance, your Evolve system can be blow-dried, ironed (curl or flat), dried naturally, braided, tucked behind your ear, or put up into a pony or chignon for evening wear. Therefore, the Evolve Volumizer addresses all of the needs and desires that a woman has for fuller, thicker, denser hair. Evolve produces immediate results and requires no glue, no adhesives, and no chemicals.
Jon Renau
Jon Renau is one of the world's leading manufacturer in full systems, partial systems, and hair extensions for hair loss. They offer hair systems for every stage of hair loss from beginning, to mid-progressive, and advanced. The human hair additions instantly transform your look by adding body to fine, thin hair. They blend seamlessly with your own hair, and you can style them just like normal. The base designs for each system vary depending on your hair needs. One of our amazing stylists can help you find the perfect Jon Renau system during a consultation!
Bellami Extensions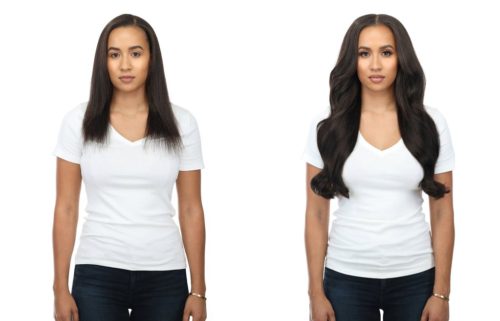 Hair extensions are now one of the most popular services our salon offers to add not only instant length, but also thickness to hair. Long locks can increase length, or shorter sections can boost body and volume for hair. Bellami Hair extensions are available at Jyl Craven and provide many different kinds of extensions including Clip-In, K-Tip, I-Tip, and volume wefts. Each type of extension is created for different hair needs and a consultation with one of our stylists will help you find the right type of extension for you!
Nutrafol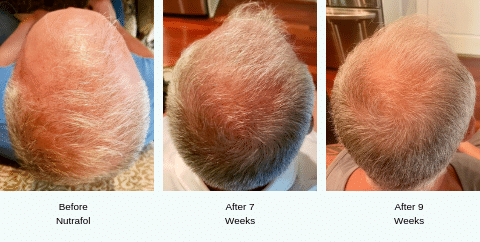 Nutrafol is a drug-free, thinning hair supplement developed by physicians to naturally improve hair growth. There are 3 different formulas for hair growth to choose from: Core for Women, Core for Men, and Core for Women Plus. Each are formulated by physicians with clinically tested nutraceuticals. The supplements have shown to produce not only increased hair growth when taken on a regular basis, but also very significant results in hair quality, hair thickness, and most importantly, overall wellness.
Kerastase Products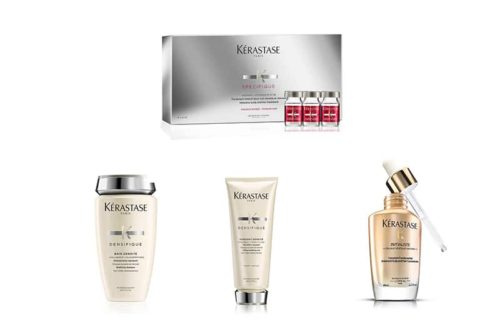 Kerastase has some incredible products to help with thinning hair. The Initialiste Scalp & Hair Serum is an advanced serum that strengthens and grows hair fibers by restoring uniformity and smoothness. It also can transform your hair in as little as 7 days! The Kerastase Densifique Densité Shampoo and Conditioner leave hair with more substance, resilience and strength, and thickens hair. Lastly, Kerastase's Specifique Intensive Scalp & Thinning Hair Treatment helps to fight against the appearance of thinning hair and recaptures volume, shine and flexibility. In conclusion, Kerastase has many different incredible products to help your journey to thicker, fuller hair.
About Jyl Craven Hair Design
Are you ready to find the perfect solution for your hair? Women from Kennesaw, Woodstock, Canton, and beyond are coming to Jyl Craven Hair Design to find solutions for hair loss. Most importantly, they are loving the results! Take your first step towards thicker, and fuller hair by booking your consultation with one of our amazing stylists today!
Contact Us
Jyl Craven Hair Design
7970 Knox Bridge Hwy
Canton, GA 30114
770-345-9411
info@jylcraven.com
Hours
Monday 11:00am – 8:00pm
Tuesday 9:00am – 9:00pm
Wednesday 9:00am – 9:00pm
Thursday 9:00am – 9:00pm
Friday 9:00am – 7:00pm
Saturday 6:00am – 5:00pm
Sunday Closed
Directions
From I-75N take Highway 575N to exit #14 Holly Springs Pkwy. Turn left off the exit and go approximately 1 mile (4th traffic light) to Butterworth RD. and turn left. Take Butterworth RD (approximately 2 miles) until it dead ends into HWY 20 / Knox Bridge Highway. Turn left onto HWY 20. Jyl Craven Hair Design is approximately ¼ mile on the left.